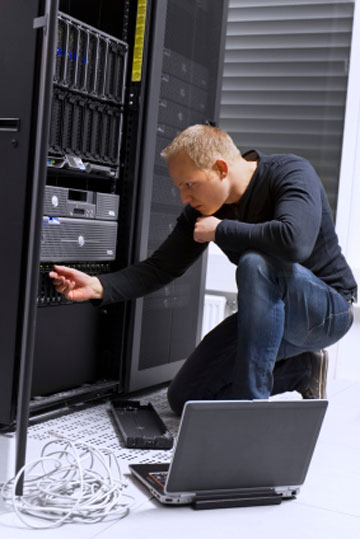 At DataSys, we offer the widest choice of technical support in London and the UK. Our central office in the West Midlands means its easy for us to travel to your business premises no matter where you are in the country. We can also offer remote support services in the West Midlands and across the UK if you would prefer.
Support, your choice
Our on-site technical support gives you access to a physical IT support presence in your office, whether you need us to attend to an emergency outage or you simply need an IT presence during those busy times of the day. Our professional technical analysts have years of support experience and can support your hardware and network infrastructure and any software applications you have running.
We can also have somebody working remotely on the problem and gathering information until your consultant arrives on site. We can provide support for any IT function including data backup issues, problems with Microsoft Office, server outage issues and network security problems. Our vast experience means we are well equipped and knowledgeable to resolve any problem promptly and completely.
24/7 on-site support
Our technical support services offer you complete freedom over choosing the support you need, when you need it. We are on call 24/7, giving you total peace of mind when that critical server crashes in the early hours. DataSys is here for you night and day whether you are a small local business or a multinational organisation. We are currently helping many of our UK clients with their IT support either physically or remotely and would like to tell you more about our affordable services.
Our support services are cost effective, reliable and will suit your business needs perfectly. We can also help you with email hosting, cloud computing, hardware supply, networking and web security.
Call us on 0121 270 4948 to speak to one of our team