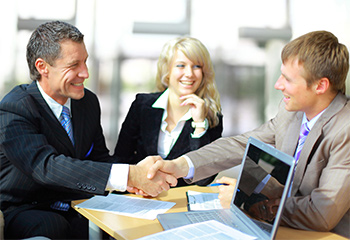 Whatever managed service you require, DataSys are best placed to provide it.
Whether you require e-mail hosting, hardware supply, data backup or something else altogether, the team at DataSys can provide a managed service together with ongoing consultancy and server support. We are dedicated to ensuring that your business becomes more efficient in its day to day running and more productive. We take pride in our customers growth as a result of our managed services.
We firmly believe that we provide the best IT support at a price that our customers can afford. Many of our competitors either lack the required expertise or are so expensive that they are simply not a cost effective option for businesses looking to keep their costs down. We know that our customers are happy with the service that we provide because they tell us, and they tell other businesses which is why much of our clientel comes from word of mouth and recommendations.
We have developed excellent relationships with our customers and have an understanding of their business requirements. This has enabled us to provide a great service. Just check our testimonials to find out more…
Email Security
Just one message containing a virus could bring your systems down. Whilst you may have the most robust anti-virus systems in place across your network, its better to stop viruses at their source. Email is the most popular method for carrying viruses and other malicious software. Our email security systems will stop these potential risks and keep them quarantined and away from your network.
We can provide anti-spam and content filtering systems that will not only prevent unwanted messages being delivered, but which will also protect your business. Content filtering systems work by scanning incoming and outgoing emails to ensure confidential information is not being leaked and messages containing inappropriate content defined by you, are not delivered.
DataSys also provide the provision of email hosting. We take away the headache and expense of email server hardware supply and configuration, data backup, managing mailboxes, upgrading servers and mail server problems with our email hosting solutions in the cloud.
Web Content Filtering
Where once web filtering was more about preventing employees wasting valuable time browsing websites or using chat forums, it is now about keeping the entire network protected from inappropriate content, viruses, malware, spy ware and the threats that are released onto the internet on a daily basis.
With DataSys' support service and our web content filtering, you can decide just how connected you want your business to be. Our security solutions help you to protect your employees from opening or accessing content that is not work related. Whether you want to block employee access to certain categories or just one particular website, we can provide that service.
Offsite Onsite Backup
Having a reliable and simple way of backing up data is of critical importance whatever the size of your business. Statistics reveal that companies who fail to have proper backup procedures are more likely to fail within the first two years than those who have considered on site or off site backup, and as data is one of the most valuable assets any business has, taking care of it is simply a matter of common sense.
Any system designed for data backup has to take into account the needs of the user, and DataSys can design services which work in the background, ensuring an uninterrupted work experience for your staff and clients. This helps both with protecting your data by making sure it is backed up regularly, and also with your productivity.
If the worst should happen and you lose your data, DataSys can help with a full restore to the point of loss. This is in direct comparison to traditional methods of recovery which can only restore data to the end of the previous day. This method, which does not involve the use of tapes, is more cost effective and cheaper so saves you money on your IT budget too. We can help with the hardware supply to enable you to do the recovery in house, or if you prefer an off site backup facility then give us a call so we can explain how we can help with that too.
Very few businesses work in just one location, and many have workers spread across the country. DataSys can provide data backup to companies throughout the UK and beyond. Data is held securely in an off site data centre and can be recovered whenever it is needed. Our technical support is top rated and whatever your recovery needs, we can tailor a solution to your specific needs.